I recently spent two weeks in Korea, the first of which I spent in Jeju Island (aka Jeju-do).
Similar to the relationship between Hawaii and the US or Okinawa and Japan, Jeju Island is a subtropical island off the south coast of Korea.
Little known to the Western world, Jeju-do is a popular vacation destination in Korea famous for its black volcanic rock, raw natural beauty, organic farms, black pigs, and casinos that only foreigners are allowed to enter.
This was my second trip to Jeju Island and somehow I managed to spend the whole week doing things that I hadn't done on the first trip. The island is surprisingly large and you could easily spend a few weeks there without running out of new places to explore.
The flight and the hotel
You can't fly direct to Jeju-do from the US, so first you must land at Incheon International Airport (ICN) then catch a domestic flight from Gimpo Airport (GMP) in Seoul to Jeju Airport (CJU).
Much to my surprise my wife and I boarded a jumbo jet at Gimpo with rows 8 seats across. The plane took off less than half filled for the flight. The best we could figure was that our over-exuberant captain was a rookie and Korean Air was using the short flight to Jeju Island as a training run for the big jets.
Once we arrived on Jeju-do we picked up our rental car and made our way to the hotel on the south side of the island. The north side of the island and the south side are as different as night and day. The north side is very urban and feels a bit like big city Seoul. The south side of the island is much more spread out with natural vistas to treat the eye.
My wife and I both have a bunch of airline miles from flying back and forth to Korea so we put them to use and stayed at the Korean Airlines owned KAL Hotel in Seogwipo City for the first few nights and then the Asiana Airlines affiliated Kumho Jeju Resort for the remaining couple nights.
KAL lost our reservation and gave us a lot of hassle when we checked in (a blatant attempt to get out of letting us use our miles?). Though, once we got that straightened out we greatly enjoyed staying at the hotel.
It's located on a beautiful stretch of coastline with a large landscaped lawn to take a nice refreshing walk around. The breakfast and dinner buffets were also quite excellent. I stuffed myself with boiled bacon in the morning and then piled my plate high with kalbi (korean short ribs) in the evening.
However, there is a weird communist air to the KAL Hotel. The building edifice and landscaping look like they were done in the '50s and haven't been updated since. The whole grounds just had a strange communist vibe to it. We theorized this might be because it's a "miles hotel" so they simply haven't seen the point in updating it to attract more tourist dollars.
The Kumho Resort appears to have been used as vacation time shares at some point, but now operates like a hotel. Once again we had troubles checking in, but we were able to smooth things out and get an upgrade to an ocean-facing suite. Kumho felt a bit more like a budget hotel compared to the KAL, but otherwise the stay was pleasant. The horrible breakfast buffet was the only major red mark.
If I were to go back to Jeju Island I would definitely stay someplace in Seogwipo City again, as it's by far the more beautiful part of the island.
Getting around Jeju-do
Public transportation is little to non-existent on Jeju Island, so renting a car is a must.
Though all the road signs also list place names in English, in general Jeju Island is not very English friendly.
Fortunately I speak Korean fluently and I was with a native speaker–my wife. I think it would have been very difficult to get around and find things without at least having a Korean speaking friend with you.
This is perhaps not too surprising as unlike places I've visited in Japan and China, there is an utter lack of Westerners visiting Korea–especially Jeju-do. I saw exactly one white person the entire week. The only other foreigners I spotted were a group of Japanese women.
Despite language challenges, I'm sure a determined traveler could eventually find their way to the major tourist attractions though.
Climbing Hallasan
Climbing Hallasan was such an adventure in its own right that I wrote it up as a separate post.
O'Sulloc Tea Museum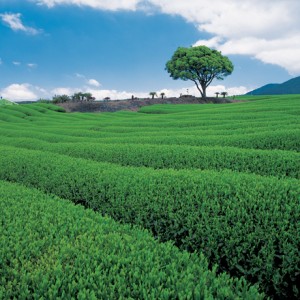 O'Sulloc is a popular brand of organic green tea in South Korea that is grown on the rich, fertile volcanic soils of Jeju-do. In 2001 they built a green tea museum deep in the heart of their green tea fields.
The museum itself is small and mainly consists of historical tea cups with a brief history of tea growing and brewing.
What makes it worth the trip is that you can actually go out and wander around the green tea fields. It was the first time I'd actually seen a green tea leaf. I touched a few and discovered that they were far rougher and thicker than I would have thought.
At the cafe attached to the museum we got down to the real business of sampling the goods. We ordered plain green tea, a green tea smoothie, a green tea latte, green tea ice cream, and a green tea cake roll. I'd have to say my favorite was the milky-sweet green tea latte.
Hamdeok Beach
While it doesn't stand up to some of the beaches I've seen in Vieques, Puerto Rico, Hamedeok Beach is the best beach on Jeju-do if not all of Korea.
Even so, I almost didn't mention the beach because it's so same-y when compared to other beaches, except for one memorable trip to the bathroom.
I had to go bad, and for a #2. So I went into the stall and… no TP. Not even a roll or container where TP was supposed to be. Argh.
Korea, you see, doesn't always provide TP at public bathrooms. If you don't bring it with you, there's a 50/50 chance you are HOSED.
Fortunately, I knew to look for this before I let loose so I was able to contain myself until we made it to the hotel where there was abundant TP in the bathroom.
Oedolgae Rock
Oedolgae is a lone pillar of rock that juts out of the sea in a small cove. The name itself means something like "alone rock."
We took a walk on the trail through the park around the cove that surrounds this beautiful natural structure.
I will let a picture stand in for far better than anything I could say about it.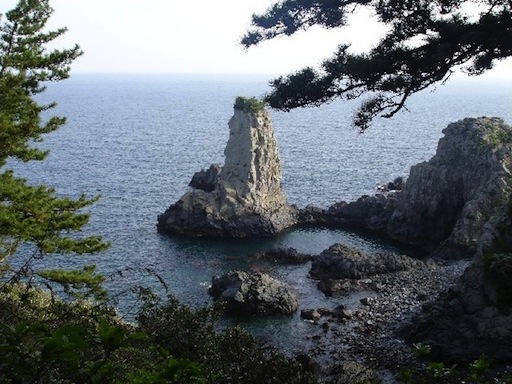 Photo by: Virtual Tourist
Dolharbang Park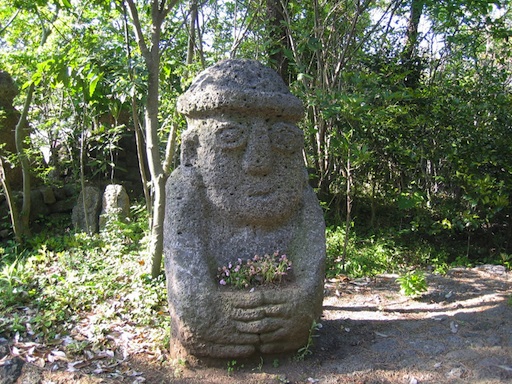 I actually went to the Dolharbang Park the first time I went to Jeju Island, but I enjoyed it so much I had to mention it.
These funny little creatures called dol hareubangs (or harbang depending on how you Anglicize it) can be found all over Jeju-do. The word means "stone grandfather" and they are a symbol of protection and fertility. They were originally placed outside the entrance to villages.
Allegedly their shape is related to shamanic traditions that believed in healing powers of the mushroom, but given that they symbolise fertility you can't help but think that the strong resemblance to penises is not just coincidental–a rare exception for conservative South Korea. Traditionally they are made of porous volcanic black rock from the island.
The Dolharbang Park is a sculpture garden filled with large, person-sized dolharbangs. Some harbangs have holes sculpted into them so you can take photos just like at a theme park with face cut-out pictures. At the end of the walk there's a gigantic one sculpted in three pieces so that the head and two giant hands enclose a small area.
Visiting Dolharbang Park is probably the most Jeju-do specific "cultural" thing you can do on the island.
Mysterious Road
I kept thinking to myself, "what the heck is that?"
There are signs for Mysterious Road all over the island. Not billboard signs, but regular traffic street signs listed along with all the other regular roads.
It turns out that there is a stretch of undulating road shaped in such a way that it looks like you are going downhill when you are in fact going uphill in several places.
Udo
Udo, which literally means "cow island," is a smaller island off the northeast coast of Jejudo.
We made the mistake of not just paying the extra $20 to bring our car over on the ferry, and discovering that not only was the island too big to be walkable but it actually cost more to rent mopeds/ATVs on Udo than it would have to bring the car over.
We didn't feel like forking out the extra cash so we just walked to the nearby spots that we could.
The walk up the beach line was beautiful but, like the main island, beaches on Udo are filled with sharp coral so there's not much swimming to be had.
After a while of walking along the beach we came to a cafe advertising "peanut ice cream." It turns out that Udo is famous for peanuts. I was not particularly thrilled by the idea of peanut ice cream, but I figured what the heck I'll probably only ever come to Udo once so I might as well try the local delicacy. There's still something profoundly wrong with ice cream that has the texture and flavor of peanut butter, but it was worth a try–once.
At this point my wife and I were extremely hungry, so we set off to look for a restaurant. It was about 10:00 AM and most places weren't open yet. One of the locals told us there might be a place open at a neighboring town, so we walked off through the farm fields in the general direction it was supposed to be.
Along the way we saw many farmers hard at work. Surprisingly, the local farmers seemed far less interested in the random white guy than the Korean tourists who kept saying "hello" and making an attempt to say something in English.
Rows and rows of white blobs with two foot green shoots coming out the top had been pulled out and were lying to dry on the farm fields. Upon closer inspection, the white blobs appeared to be heads of garlic.
Halfway to town we came across a young girl with a big towel wrapped around her head. I thought this was a strange thing to do on a blistering hot summer day, until my wife told me that the girl was most likely just trying to prevent a suntan.
Unlike in the West, suntans are not "cool" in Asia. They prize white skin–as deathly pale as you can get it–and are willing to suffer the heat of excess clothing for it.
The "white skin" phenomenon is not an attempt to somehow mimic white people or catch up to the West. It actually has historical roots as a symbol of the aristocracy who don't have to work in the fields. People with suntans or very dark skin are somehow backwards or fallen.
Eventually we found our way through the farms to the restaurant and had some delicious grilled "black pig." I wasn't expecting much from the dilapidated old place, but man it was good. It tasted so fresh I wonder if it hadn't come from a nearby farm that day.
Though I have never seen a single pig or cow on Jeju Island, supposedly most Korean pork and beef comes from Jeju-do. Jejudo black pigs are especially famous.
Have you ever been to Jeju-do? Thinking about going? Share your stories or questions in the comments.
Donate
Bitcoin: 1PDxzyHsBvkADSWJFEo1jDzCZXGyZqDrea
Ethereum: 0x8245f4d4f0c87bd9e581c3f226ed6552ef55f89c