I recently moved to Seoul, South Korea with the intent of being here for at least a year. This is the story of my attempt to eat Paleo here.
Bringing your healthy eating habits to another country for months or even years at a time is very challenging. I've been to Seoul many times before and I speak Korean reasonably well, so it's not even that the language barrier is a problem. Once you cross the border you just can't walk into your local Whole Foods Market and find all the foods and products you're used to.
While I'm all for trying new foods and adapting to the local cuisine, food sensitivities don't magically disappear when you cross an arbitrary line on a map and toxic food additives don't magically become healthy. The locals don't always know best. Imagine what would happen if you were a foreign visitor trying to apply that logic in America where most people are eating the Standard American Diet.
But there is good news. With a little ingenuity and mindfulness, eating paleo in Korea is possible without breaking the bank on imports or farming it yourself. Even better news for those of us with wanderlust is that some of these tips can be applied to living in other countries as well.
Finding organic produce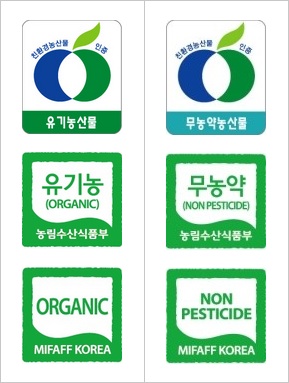 Fortunately, it is pretty easy to get organic produce in Korea. Most grocery stores carry a reasonable selection. And there is an easy labeling system. Just look for the apple logo.
I've also recently heard about a new CSA setup that caters to the expat community.
You can get most of the same common fruits and vegetables in Korea as you can in America. Though your options greatly increase if you expand to non-organic native produce. I personally don't have any more or less concern about eating conventional Korean produce than I do eating conventional American produce (much of which comes from foreign countries anyway if you read the label).
Finding pastured meats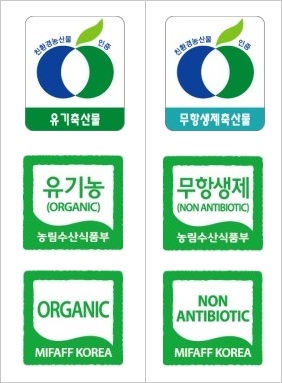 First the good news is that meat produced from animals without growth hormones and antibiotics is widely available and clearly labeled in Korean grocery stores.
But I must admit, I had to downgrade expectations on this one. I like to buy grass fed beef and pastured pork in bulk from local farmers to keep costs down, but that's not an option in Korea. Grass fed meat is slowly trickling into the market, but it just isn't big here yet and what is available is profoundly expensive. Even conventional meat is quite expensive, and locally produced Korean beef is often 2-3x the price of imports.
You will no doubt hear rumors of Australian and New Zealand beef being 100% grass fed. And maybe this is true of the majority of meat if you actually live in Australia or New Zealand, but less well known is that those countries also produce grain fed animals. These grain fed animals are chiefly used for export to East Asian countries like Korea and Japan. Sigh.
That being said I typically do buy Australian or New Zealand beef because unlike domestic Korean beef and American imports which I know are part of the CAFO paradigm, I feel like there is at least some sliver of a chance that the Australian or NZ cow spent more of its life on pasture than not.
As for pork, I really haven't searched for pastured animals. It's difficult enough to find in America that I'm not holding my breath here. I just go with antibiotic-free pork from black pigs raised in Jejudo when available because it's so tasty.
Likewise, finding chicken and eggs from hens raised without antibiotics is pretty easy. I've even seen pastured eggs showing up on the shelves. I am always slightly wary of poultry in Asia because of their constant epidemics of bird flu. Being free range even arguably makes chickens more susceptible because they come into contact with infected wild birds. That said, I regularly eat raw eggs and it hasn't been a problem for me yet.
Lamb is not popular in Korea and I haven't seen it very often outside of the foreigner grocery stores. I can't really comment on the feed these lambs get as I don't know where they come from. If they're Australian and NZ imports they are probably grass fed. If they are raised locally my guess is they are fed rice silage like much of the domestic cattle. Possibly "supplemented" with soy protein blends.
If you love seafood you are in luck, because it's plentiful, diverse, and cheap. I personally love me some oysters and I had a huge platter of them at a restaurant the other day for $6. Korea doesn't seem to be big on labeling wild caught vs. farm raised. In fact, I don't think I've ever seen a wild caught label. If you don't know for sure, I would just assume it's farm raised.
*If you are aware of any direct farm-to-consumer sources of pastured meats in Korea, please leave a note in the comments.
Fermented foods
One area where Korea really shines is fermented foods. There are a gazillion and one different kinds of kimchi, not just the spicy cabbage most Westerners think of.
If you tolerate properly fermented soy well, doenjang jjigae is a popular soup made from soy bean paste, a little red pepper, and vegetables.
I also enjoy a drink made from fermented plums called maesil.
A Whole Foods-like grocery store in Seoul called SSG Food Market has an entire section filled with different fermented vegetables. One notable exception is sauerkraut, which, sadly, I have not found anywhere local.
Eating out
On average I would say eating out is slightly easier in Korea than in America, but it's still a mixed bag.
On the plus side, traditional foods like whole chicken soup (samgyetang) and ox bone soup (seolleongtang) are relatively inexpensive and served almost as quickly as a fast food joint. Korean BBQ–sans questionable marinade–and boiled pork (bossam) are also amazing. And you have to love the free refills on vegetable side dishes that are typical at most Korean restaurants.
On the negative side fried chicken, noodles, Chinese-style dumplings, and pizza are the party defaults.
Supplements
As good as any diet based on eating healthy whole foods and avoiding toxic or allergenic foods is, some of us still want or need the occasional supplement.
You will not find what you are looking for in Korea. Like many a foreign executive in Asia looking for deodorant has discovered, often times you find that Korea simply doesn't have the domestic equivalent of some items. And if you do find it, it will be 2x-10x the cost of what you would pay for it in America.
Fortunately, there is an amazingly good solution to this problem–iHerb. Just about any supplement you want, they have. Along with a wide range of other food and personal care supplies. And they will ship it to you in Korea for a measly $4, or FREE if your order is over $60.
Where to shop
Costco
That's right, Korea has Costco too. And it is a total life saver for your meat eating habit, because you can go pick up some Australian or NZ beef for a fraction of the cost of domestic beef at your local grocery store. It's still not as cheap as meat in America, but it will help you survive without breaking the bank. I also like to get raw salmon and frozen blueberries there.
website: www.costco.co.kr/eng/
SSG Food Market
This is the place to go for a very Whole Foods-like experience. Coming down the escalator to the smell of fresh flowers in your face is just like going into the Columbus Circle Whole Foods in New York City. SSG has a great selection, but like Whole Foods, you will pay a premium for everything in the store.
website: www.ssgfoodmarket.com
Orga Whole Foods
There are several branches of this shop around. They carry organic produce and other odds and ends. Most of the ones I've been to have been little holes in the wall, but their many locations can often make them easier to get to. Orga is also one of the few places to carry goat milk, which I love.
website: www.orga.co.kr
WWOOF CSA
This is the first CSA in Korea. They are targeting the expat market and provide support in English. They also offer a Paleo-friendly option to exclude bread products from your shipments. I'm excited to try these guys out, but I haven't had a chance to yet.
website: www.wwoofcsa.com
High Street Market
High Street Market is the most well known foreign food grocer in Seoul. They carry some grass fed beef and Anchor butter (made from the milk of grass fed NZ cows) which is the only butter I would buy here. Frankly, I'm not that impressed with their selection, but if you absolutely need a fix for something American that you can't find anywhere else they might have it here.
website: www.highstreet.co.kr
iHerb
iHerb is an online store based in America and one of the best kept secrets of foreigners living in Korea. You won't get your fresh fruit and meat here, but they have an enormous selection of supplements, dried foods, condiments, and personal care products. Things I've bought from iHerb include various items such as sardines, dark chocolate bars, trace mineral drops, camu camu powder, toothbrushes, tomato sauce, and vitamin k2. It only costs $4 for shipping to Korea, or shipping is FREE on orders over $60. Packages are typically delivered here in only 3-4 business days. I really don't know how they do it, I can't say enough good things about iHerb.
COUPON: The URL below will not only take you to the iHerb website, but give you $5 off your first order or $10 off if your order is over $40. Alternatively you can put in the coupon code LJL783 at checkout.
website: www.iherb.com
iCOOP
This is another popular online store that sells many organic and natural products. You'll need to know Korean and possibly have a Korean friend with a resident registration number number to use this site. I haven't tested it to see if it will accept a foreigner registration number yet–something Korean websites are notoriously bad at.
website: www.icoop.or.kr
{ 0 comments }